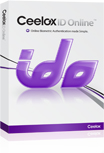 Ceelox ID Online™, a server-based biometric software application, enables users to securely authenticate user identities for access to internet sites or networks or to take an action such as transferring money or punching an online time clock. Ceelox ID Online™ enrolls new users remotely (at the user site), or at a physical site designated by our customer. Ceelox ID Online SDK (software developer kit) is a powerful tool that can be purchased for integration or is available as a monthly service.

With Ceelox ID Online™, an enterprise can quickly and easily add a strong biometric authentication layer to their existing online security measures. Typical authentication strategies rely on passwords, which can be shared, lost or stolen. Enterprises that rely on user names and passwords alone (or on other "single-factor" authentication strategies) may be providing access to sensitive Internet sites or networks to unauthorized individuals. Ceelox ID Online™ adds a strong second factor of authentication, insuring that only authorized individuals can access critical data. Ceelox ID Online™ also provides enterprises with a strong audit trail of user identity - an accurate record of who accesses critical data or applications and when.

The rate of identity theft-related fraud has risen sharply since 2003, a report from research firm Gartner shows that from mid-2005 until mid-2006, about 15 million Americans were victims of fraud that stemmed from identity theft. Since 2003, millions of internet users have experienced identity fraud, resulting in losses of more than 50 billion dollars to businesses and consumers. Identity theft is being propelled forward by explosive growth in phishing and malware. Recent guidelines issued by the Federal Financial Institutions Examination Council (FFIEC) require financial institutions to move beyond single-factor authentication when verifying user identity. However, any online application accessible via username and password that would benefit from greater security would benefit from the easy to integrate additional security layer provided by Ceelox ID Online™
Ceelox ID Online™ acts as an additional layer of online authentication security. The majority of all internet users access websites that are currently protected by user name and password. Online banking or investment sites, internet auction sites, credit related websites, social networking sites and the list goes on. Now, Imagine for a moment that your username and password to access these sites has been stolen, lost, or shared. Anyone that has your user name and password can now gain access. Ceelox ID Online™ changes that by adding a biometric layer of security using your unique fingerprint.
Now when a customer navigates to a secure website that requires a username and password to gain access, the user is required to know not only their user name and password to gain access to the desired online banking site, corporate website, registered member page, restricted login page, or secure web based application; the user must also complete a successful fingerprint scan. Ceelox ID Online™ offers true multi-factor authentication by requiring not only the factor of what a user knows (username and password) but also what they are (a fingerprint scan). Usernames and passwords alone are simply not enough security. Ceelox ID Online™ prevents identity thieves and other unauthorized users from gaining access to critical online data, systems, and applications. New users can enroll at a customer designated location or remotely over the web. Ceelox ID Online™ provides true multi-factor authentication with the swipe of a finger.
Back to page top.